Johnny Bero
---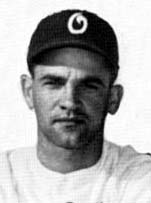 Johnny Bero
Oaks' Infielder
Bats left; throws right
6 feet; 170 lbs.

Born in Gary, West Virginia on December 22, 1922, John George Bero made his Pacific Coast League debut as a utility infielder for the Oaks in 1952 after playing in the majors for the Detroit Tigers in 1948 and the St. Louis Browns in 1951. Batting in 27 runs in 130 games played, he was signed for another season as the Acorns' shortstop in 1953. He hit .209 with 32 rbi's that year before retiring from baseball at the end of the season.




Click Here
---
(c) Copyright William B. Shubb, 2003.