Roger Bowman
---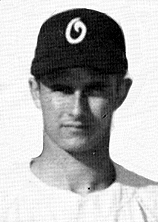 Roger Bowman
Oaks' Pitcher

When pitching for Jersey City in 1950, Roger Bowman led the International League in strikeouts. He was sent to Oakland on option by the New York Giants, along with George Bamberger, in exchange for pitcher Hal Gregg in the middle of the 1952 season. Bowman went 7-5 with a 3.29 ERA for the Oaks that season.

On July 3, 1952, he hurled a no-hitter against the Hollywood Stars. The first time around, he threw them breaking pitches. Even though the Stars' lineup consisted mostly of right hand hitters, Roger retired the first 15 before giving up a walk. (That was followed by a double play.) By the middle innings, after his arm loosened up, he began throwing fastballs. The third time through the lineup, he threw breaking pitches again. That approach seemed to keep the Stars' batters off guard, and Oakland defeated Hollywood 3-0 that game.

Bowman would go on to pitch a perfect seven inning game in 1954, this time for Hollywood. In 1955, he will go to the majors and pitch for the Pirates.


Click Here
---
(c) Copyright William B. Shubb, 1999.