Ernie Broglio
---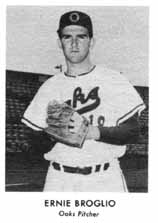 Ernie Broglio
Oaks' Pitcher

17 year old Ernie Broglio was acquired out of El Cerrito High School by the Oakland Oaks in 1953. Ernie, this year's top Bay Area prospect, turned down at least 12 major league offers to sign with the Oaks. A month after signing, on July 10, 1953, he made his pitching debut against the Portland Beavers. After 5 starts and 6 relief appearances, Ernie was 2-4 with an ERA of 6.71. He spent the next season in the California League.

He will go on to pitch in the majors, leading the National League with a 21-9 season for the Cardinals in 1960.


Click Here
---
(c) Copyright William B. Shubb, 1998.
z,/HTML>