Milo Candini
---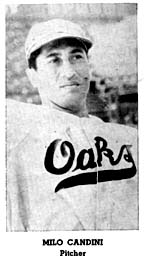 MILO CANDINI: Born in Manteca, Calif., 1917, Italian descent. Attended Manteca High School, where he lettered in baseball, basketball, football and track, four years each.
Started his professional baseball career in the Yankee organization with El Paso of the Arizona- Texan League in 1937, where he posted a 21 and 7 record. The following year he went with Norfolk, Va., in the Piedmont League (Class B) where he won 13 and lost 12. After spending two more years in "B" ball, he joined the Oaks in 1940 where he had a 3 - 3 record the first five weeks of the season and was returned to Kansas City where he posted 13 and 8 for the Blues.
Milo came up with a sore arm in 1942, and in '43 was sold to the Washington Senators where he had a 11 - 7 record. In '44 Milo won seven and lost six with the Senators, taking part in relief roles only.
Milo joined Uncle Sam's infantry in 1945 and saw action in the South Pacific. With his discharge in his hand he rejoined the Senators, with one month left to play in the '46 season.
In 1947 and '48 Mils posted identical records as a relief pitcher with four wins and three losses.
Milo was reacquired in 1949 by the Oakland Oaks in the Lloyd Hittle deal, and was a mainstay on the Oaks after joining the club.
His ambition was to become a big league scout. His preferences were clothes, sport; movies, musical comedy; food, all and plenty; women, good personality.

Click Here
---
(c) Copyright William B. Shubb, 1998.