Dave Dahle
---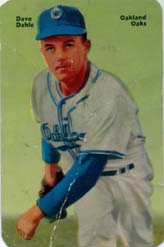 Dave Dahle
Oaks' Pitcher
Height 5 feet 11 1/2 inches. Weight 180 pounds.
Bats right. Throws left. David E. Dahle was born in 1927 in Los Angeles, Calif. He was acquired by the Oaks in 1949, but only pitched 5 innings of one game, giving up 6 runs, that season. In 1950, he only pitched in one inning, giving up a walk. His big season came in 1951, when he pitched a total of 63 innings in 18 games, with an ERA of 3.43. In 1952, he pitched 2 games, with an ERA of 4.50, before being traded to the Padres in 1953.


Click Here
---
(c) Copyright William B. Shubb, 1998.