Piper Davis
---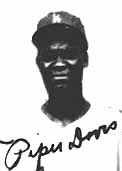 Lorenzo "Piper" Davis
Oaks' Catcher

Piper Davis played for the Birmingham Black Barons, and had managed Willie Mays and Artie Wilson before coming to Oakland in 1951. A born leader, his normal position was behind the plate, but in 122 games of that season he filled in wherever he was needed. In the last game of the '51 season, manager Mel Ott started Davis on the mound.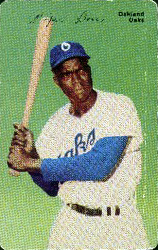 After retiring three batters, Davis then played each of the remaining positions during the 10 inning game, receiving a $500 bond from the Oaks' boosters for the fete.
Perhaps the league's most versatile player of the 1950s Piper Davis went on the play with the Oaks on and off for four more seasons.

Click Here
---
(c) Copyright William B. Shubb, 1999.