Don Ferrarese
---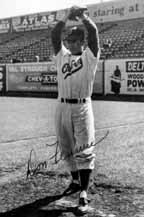 Don Ferrarese
5'9", 170 lbs.
Bats right. Throws left.

Born and raised in the East Bay, Donald Hugh Ferrarese first pitched for Oakland at the age of 20 in 1949, giving up 7 runs in a total of three innings pitched. He returned from military service to rejoin the Oaks' pitching staff in 1953. The diminutive southpaw had arm problems through most of the season and finished 4-4. In 1954, he went 18-14, and in '55 he went 3-7.


Click Here
---
(c) Copyright William B. Shubb, 1998.