Tookie Gilbert
---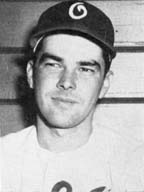 Tookie Gilbert
Oaks Infielder
Bats left, throws right
Height 6' 3", weight 180.

Joseph Harold Gilbert, born April 4, 1929, in New Orleans, got the nickname "Tookie" when he was a youngster and his brothers let him take batting practice with them. They'd call him "rookie" but Harold pronounced it "tookie." When acquired by the Oakland Oaks in 1952, he still lived in New Orleans.
The son of Larry Gilbert, co-owner of the Nashville Vols of the Southern Association, he was signed by the New York Giants in 1946. Numerous clubs were after him at that time, so his father put all of their names in a hat and pulled out Mel Ott's. Ott, later to become manager of the 1952 Oaks, was a scout for the Giants at the time. So the Giants signed Tookie for $50,000.
Tookie played for Minneapolis in the American Association and Erie in the Mid Atlantic League in 1947, for Sioux City in the Western League in 1948, for Nashville in the Southern Association in 1949, for the Giants in the National League in 1950, and for Minneapolis again in 1951. He was named to the Southern Association All-Star team when he was with Nashville in 1949, and in 1951 he led the American Association in home runs with 19 and drove in 100 runs.
He came to the Oaks in 1952. The next season, in 1953, he went back to the majors to play for the Giants again.

Click Here
---
(c) Copyright William B. Shubb, 1998.