Spider Jorgensen
---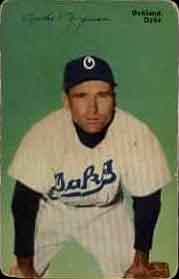 Spider Jorgensen
Oaks Third Baseman
Bats Left, Throws Right
Height 5' 9", Weight 155 lbs.

John Donald Jorgensen was born November 3, 1919 in Folsom, California. In 1946, he became the first alumnus of Sacramento City College to play in the major leagues, making his debut with the Brooklyn Dodgers. He was the starting third baseman in Jackie Robinson's first game, and continued with the Dodgers until 1950, when he was traded to the Giants in mid-season. He finished the following season and completed his major league career in New York in 1950.

He was acquired by Oakland in the Pacific Coast League in the 1950's, and was a strong defensive element in the Oaks' infield for several years.


Click Here
---
(c) Copyright William B. Shubb, 2002.