Eddie Malone
---
Eddie Malone
Oaks' Catcher
Bats right; throws right
5' 10", 175 pounds

Scrappy Edward Russell Malone is a very good caller behind the plate. A PCL regular for many years, he caught for the Angels in '47. Eddie was brought to Oakland in 1950. He will go on to catch for the Hollywood Stars in subsequent years.

Born June 16, 1924, in Chicago, but now resides in Altadena, Calif. Irish descent. Attended Washington High School and played baseball and football. Also played American Legion ball in Los Angeles. Served in the Navy during the last war. During the off season he's a sporting goods salesman. His biggest thrill was winning the pennant at Los Angeles in the playoff game and going to the big leagues. Started his pro career with Albu- querque in 1938. His best season was in 1949 when he hit .341 for Los Angeles in the Coast League. In 1942 he managed Duluth of the Northern League at the age of 22, making him the youngest manager in organized baseball that year.
EDDIE'S LIFETIME RECORD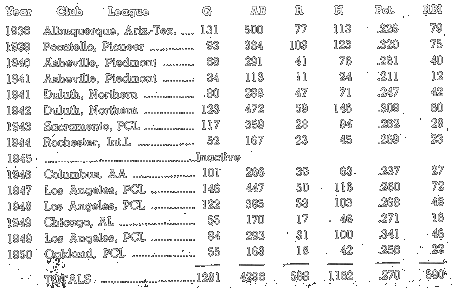 Click Here
---
(c) Copyright William B. Shubb, 2000.