Rafael Noble
---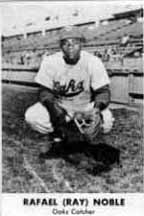 Rafael Noble
Oaks' Catcher
Bats right; throws right
5' 11", 210 pounds

Cuban born Rafael (Ray) Noble played for Jersey City Illinois, where he hit .259, with 29 rib's in 189 at bats in 1949 before coming to Oakland. At age 28, he hit .316 for the Oaks in 1950. The New York Giants took him in 1951, but he returned to Oakland in 1952.




Click Here
---
(c) Copyright William B. Shubb, 1998.