Hank Schenz
---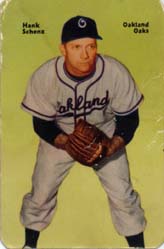 Hank Schenz
Oaks' Second Baseman

Hank Schenz, who bats and throws right handed and is known for his rally-killing diving catches, was the Oakland Oaks' second baseman in the early 1950's. He led the league in hitting in two of the first nine weeks of the 1952 season.

Long George Kelly, Oakland's chief scout, lauded Schenz as the Oak's fire-and-brimstone second baseman.

"Schenz is a valuable man to have around, off and on the field," said Kelly. "He'll make friends for the club wherever he goes.

"I remember a Friday night double-header which didn't end until 12:25 a.m.," said Kelly. "I don't suppose Schenz got to bed until after two o'clock. Nevertheless, at 9 o'clock the next morning he met me in Hayward to tour fur playgrounds and show youngsters the fundamentals of baseball.

"I told Schenz he didn't have to go to all four playgrounds, realizing he was tired and had to be at the park by one o'clock for the afternoon game. 'I'm staying', Schenz said firmly, and I couldn't talk him out of it."

Click Here
---
(c) Copyright William B. Shubb, 1998.