John Van Cuyk
---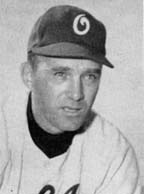 John Van Cuyk
Oaks' Pitcher
Bats left, throws left.
Height 6' 1", weight 195.

John Henry Van Cuyk was born July 7, 1922, in Little Chute, Wisconsin, but when acquired by the Oaks in 1952 he resided in Kimberly, Wisconsin. Of Dutch descent, "Van's" hobbies are hunting and fishing. He started his pro career with Appleton of the Wisconsin State League in 1939 but did not participate in any games that season. He did pitch 21 games with an ERA of 5.83 in 1940 and 23 games with an ERA of 4.68 in 1941.
He served in the Armed Forces from 1942 to 1945. His best year in baseball was 1946, when he won 18 and lost 8 for Fort Worth in the Texas League. That year he led the league pitchers in strikeouts, ERA, and shutouts. In 1947, '48, and '49, he divided his time between Montreal in the International League and the Brooklyn Dodgers in the National League.
Johnny was purchased by Oakland on a conditional basis from St. Paul, in the American Association, in 1952. He was one of that season's most significant additions to the Oakland Oaks' pitching staff. Finishing the season with a 9-3 record and a 2.75 ERA in 61 appearances, the left hander contributed to the most effective bullpen in the Pacific Coast League. He was sold to the San Diego Padres in 1953.

Click Here
---
(c) Copyright William B. Shubb, 1998.