DickWakefield
---
Dick Wakefield
Oaks' Outfielder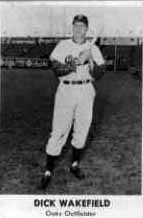 After attending the University of Michigan, Dick Wakefield played for the Detroit Tigers for several years. In 1949, he was traded to the Yankees for Dick Kryhoski. Although he had negotiated a big $17,100 contract with the Yankees, he did not fit into their plans for the 1950 season, and he was sent to Oakland on option before the end of Spring Training.
He played parts of the 1950 and 1951 seasons for the Oaks. As the fourth outfielder in 1950, he hit .293, with 7 home runs and 38 rbi's in 87 games. In 1951, he negotiated a contract with Oaks' owner Brick Laws for $1 (sic). Manager Mel Ott used him only as a pinch hitter, and he was released after about two weeks into the season.
Dick, who always had a cigar in his mouth when not on the playing field, was one of the bonus babies of the 1940s, and had a reputation as a colorful character.

Click Here
---
(c) Copyright William B. Shubb, 1998.