Eddie Taylor, Coach
---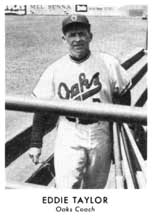 Eddie Taylor
Oaks' Coach
Bats right, throws right
Height 5' 6", weight 160 pounds.

When manager Lefty O'Doul moved up from San Diego to take the helm of the Oaks in 1955, he selected dependable EDDIE TAYLOR to be his coach.

Born November 17, 1901 in Chicago, Taylor played in the majors for the Boston Braves in 1926, but is best known as the long-time coach for the Seattle Rainiers.

As a player, he was known as a scrappy shortstop, who had broken his nose several times, broken both legs, dislocated his ankle, and broken several fingers. He almost died as the result of a beaning incident. He coaches the game with the same zeal as he played it.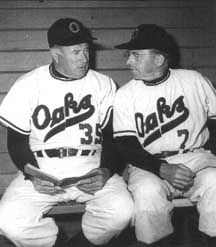 Manager Lefty O'Doul (left) talks to coach Eddie Taylor.
---

Click Here
Copyright © William B. Shubb, 1998.