Casey Stengel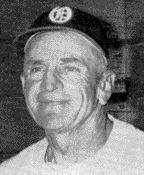 Like his protoge Billy Martin, Charles Dillon "Casey" Stengel is best known as a big league manager. As his official biography points out, he led the Yankees to eight pennants and won six World Championships, including a record five in a row. Signfiicantly, however, his official biography contains not a single word of what many Bay Area baseball fans consider to have been his most memorable accomplishment.

Having begun his managing career in 1934 with the Brooklyn Dodgers and later taking over for the Boston Braves, Casey's teams never finished better than fifth. He was fired by the Braves after the 1943 season, and his career as a manager appeared to have come to an end. It was then that he came to Oakland to manage the Oaks.

From 1946 to 1948, Ol' Case presided over an unforgettable era of baseball. Oakland fans could not remember when their team had last won a Pacific Coast League championship. But in his first season at the helm the Old Perfessor brought the team to a second place finish. The following year they only finished fourth, and it looked like they were on their way back down to oblivion, until 1948, when in Billy Martin's rookie year, Casey led the Oakland Oaks to their first Pacific Coast League pennant in 21 years. He was hired by the Yankees the following year, and the rest is history.

After his major league managerial career was over, Casey was honored on Casey Stengel Day at the Oakland Colisuem on August 18, 1968.

For the Yankees, Casey Stengel wore number 37, but for the Oaks symbolically he was number 1.
Click below to see photographs of Casey Stengel as manager of the Oakland Oaks.
1948 Baseball Cards of Casey Stengel. Left to right: Remar Baking Company (Sunbeam Bread); Signal Oil Company; Smiths (Men's and Boys' Store).
---