Nick Etten Returns to Oaks
The 1947 season was a rough one for Nick Etten, the lumbering first baseman who led the American League in home runs in 1944 and in runs batted in in 1945. To begin with he got himself in the doghouse of Larry MacPhail, then majordomo of the Yankees, over salary demands, and was summarily shipped to Newark without a chance to make a bid for the New York first baseman's job. Then Newark didn't like Etten's $13,500 salary, so they turned him over to the Acorns in August.
In October of 1947, rumors were rife, not to mention abundant that Nick would not return to the Oaks in '48.
As the 1948 Spring Training season began, however, Nick, who had established for the season a house in North Oakland with his wife and three children, quashed the rumor.
"The best answer," he said, "is that I am here. I did say that I didn't want to leave my home in Chicago unless I could be assured of suitable living quarters for my family. But the club lined up a house for me, and I'm glad I'm here.

"As a matter of fact," Etten added, "if you can't play in the majors, this is the best place to play. Naturally, you don't make as much, but the conditions are just about the same. I'm talking from the ball player's standpoint now, and there isn't a playing field in the Coast League that isn't kept up to perfection."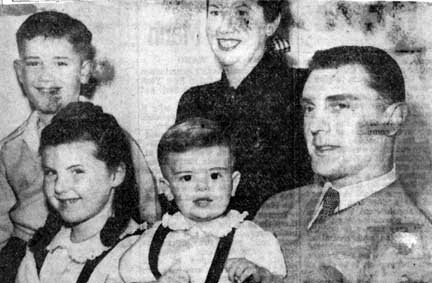 Oaks First Baseman, Nick Etten, with wife Helen and children Nicholas, Jr., 6; Patricia, 7; and Tommy, 1.
Copyright © 1999 William B. Shubb.