Oaks Pitchers
Casey Stengel knew that the hopes for a Pacific Coast League pennant in 1948 for his Oakland Oaks would rise or fall on their pitching -- or lack of it. The rest of the ball club, judging from an early glance, was sound. But while the rival San Francisco Seals had, and had since the opening day of spring training, four starting pitchers, as of the first of March Casey still had none.
The prospects were not too bad though. Without further help, Casey believed he could find at least four starters from a group that included Will Hafey, Lloyd Hittle, Damon Hayes, Tom Hafey, Bob Klinger, Charley Gassaway, Floyd Speer, Don Pulford and John Conant. Others, like Ralph Buxton and Virgil Butler, could be used as relievers.
Below are pictures of some of the hurlers Casey was counting on at the beginning of Spring Training. (There are several pictures, so please be patient if it takes a while to load them.)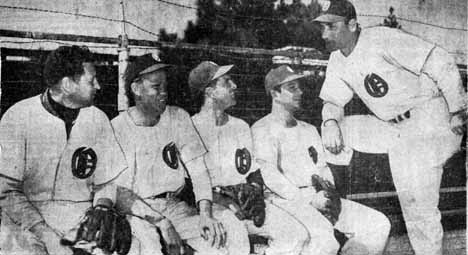 Oaks Coach Johnny Babich (right) gives a few pointers to the pitchers who were expected to carry the brunt of the mound duties for the Oakland Acorns in the early practice games of Spring Trainint '48. They are (left to right) Tom Hafey, Ralph Buxton, John Conant and Matt Zidlich. Hafey and Buxton wore Oak uniforms the preceding year, and would go on to play important roles in Oaks pitching in the 1948 season. Conant and Zidlich played for Stockton the preceding year and did not make the final 1948 Oaks team.
| | |
| --- | --- |
| | |
| Don Pulford, inactive pitcher with the Portland Beavers in 1947, tried out for the Oaks hurling staff in 1948 Spring Training. | Hurler Floyd Speer (on ground) has his muscles stretched by Oaks Catcher and all around utility man Gene Lillard at the San Fernando training site. |
| | |
| --- | --- |
| | |
| Bob Klinger, Boston Red Sox pitcher in 1947, seeks a job with Oakland in the Spring of 1948. | Will Hafey, tabbed the "Oaks $100,000 Beauty," looks like every nickel of it as he starts the 1948 exhibition season. |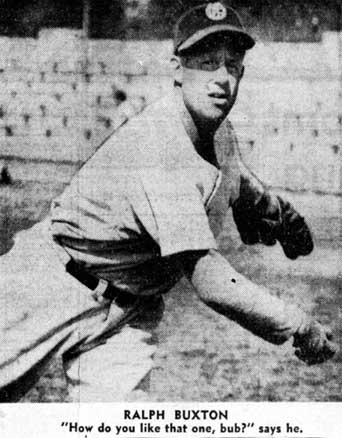 | | |
| --- | --- |
| | |
| After hurling for the Stockton Ports for two years, Lloyd Hittle reported to the Oaks for the last game of the 1947 season. He returned to Spring Training Camp in San Fernando in 1948. | |
Copyright © 1999 William B. Shubb.