Oaks Starting Lineup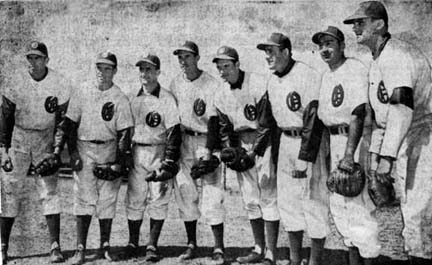 By the first week of March, Oaks Manager Casey Stengel appeared to have found the group which would open the league schedule. They were (left to right in the photo above) Centerfielder Loyd Christopher, Leftfielder Brooks Holder, Second Baseman Dario Lodigiani, Third Baseman Merrill Combs, Shortstop Ray Hamrick, Les Scarsella in right field, Catcher Billy Raimondi and First Sacker Nick Etten. Of course, Casey was also thinking of using a pitcher during the game.
Casey's veteran hitters would later be tagged the "Nine Old Men." The right-handed hitters in the photo on the left are Loyd Christopher, Frank Shone, Maurice Van Robays, and Mel Duezabou. The left-handed hitters in the photo on the right are Brooks Holder, Les Scarsella, and Nick Etten. With the exception of Shone, these batters stayed on through the season.
Copyright © 1999 William B. Shubb.