Wally Westlake
---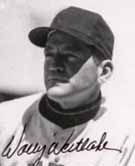 Waldon Thomas Westlake
Bats R, Throws R
Height 6' 0", Weight 186 lbs.
WALLY WESTLAKE, 25, was born November 8, 1920 in Gridley, California. Came to the Oaks in '41 from the Merced club of the California State League. He served Uncle Sam from '42 to '45. He learned baseball on the sandlots.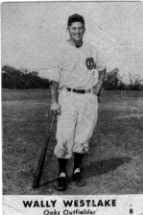 Boyhood Idol: Babe Ruth; present-day favorite: Ted Williams.
His fine fielding and team spirit made a big hit at the Oaks' '46 Sonoma training camp. He enjoys all sports.
---