Sam Chapman
---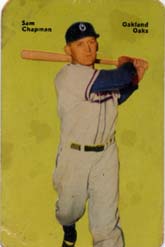 Sam Chapman
Oaks' Center Fielder

Sam Chapman was raised in San Rafael, California. As an All American college football player in 1937, he led the California Bears to a Rose Bowl victory in 1938. Also excelling as a collegiate baseball player, he went directly from college to the major leagues. Starting with the Philadelphia Athletics in 1938, he played 11 years in the American League.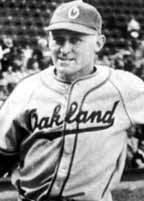 Finally, in the Spring of 1951, he decided to return home. So he sat out Spring Training and negotiated his release from the Cleveland Indians. He then promptly signed a contract with the Oaks.
After getting off to a slow start in 1951, he played in 173 games, batting .263, with 98 rbi's and 16 homers that season. He played in two more seasons as the Oaks' center fielder, clean up hitter, and player-coach before retiring at the age of 39.
Of the Pacific Coast League, Sam said:
"The quality of baseball is a lot better than I was led to expect. What has surprised me most of all is the pitching. I thought you'd see a good pitcher one day, then so-so pitching the next couple of days. Instead, you see good pitching every day. The difference between this and the majors is that back there you see good pitching a couple of days, then excellent pitching the third day. You can't really make a comparison, but I would say the PCL standard is 75 percent as good as the majors."

Click Here
---
(c) Copyright William B. Shubb, 1998.