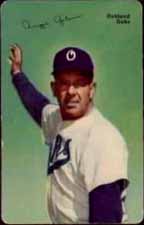 Augie Galan
Oaks Outfielder and First baseman 1950-51
Oaks Manager 1953
Bats left; throws right
Height 5' 11 1/2"; weight 165 lbs.

August John "Frenchy" Galan was born in Berkeley, California on May 25, 1912, and attended Berkeley High School, where he starred in baseball. He signed a contract with the San Francisco Seals in 1931, and was farmed to their Globe team in the Arizona-Texas League. After manager Lefty O'Doul picked him as the Seal's shortstop in 1932, he scored 122 runs and 75 RBIs with an average of .291.

During the 1932 season, a group of big leaguers came through San Francisco on their way to Hawaii for some exhibition games. They needed a shortstop and they invited Augie to come with them. The Seals' owner gave Augie permission to leave three days early if he could find a replacement. Augie's teammate, Vince DiMaggio volunteered that his 17 year old brother could fill in for him. The Seals went along with it and agreed to put young Joe in as shortstop for the last three games in 1932. (The next year, Joe batted .340, led the Pacific Coast League with 169 RBIs and hit safely in 61 consecutive games.)
In 1933, Galan batted .356 on 265 hits with 51 doubles and 102 RBIs. He led the league in runs (164) and triples (22). This was more than good enough to earn him a contract with the Cubs, who gave the Seals $25,000 and seven veteran players in exchange for Augie.
In his first season at Chicago, Augie was a reserve, but became a regular after that. The Cubs turned him into an outfielder. Despite several injuries, Augie batted above .300 six times and led the league in steals in 1935 and 1937. His best season was in 1935--the year before his first knee injury--when he batted .314 with a league-leading 133 runs, 41 doubles, 11 triples and 12 home runs. As the Cubs' lead off hitter, Augie played in every game that year and did not hit into a double play. He played on three All-Star teams and in three World Series. He was also the first switch-hitter to hit home runs from both sides of the plate in the same game.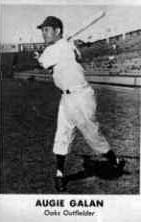 The Cubs sent him to the Los Angeles Angels of the PCL in 1941, but the Dodgers purchased his contract back for $2,500. After four seasons in Brooklyn, where he hit .263 he had typhoid fever that year), .318, .307 and .310, he was traded to Cincinnati where he hit.317 in 1947. His major league career ended after 17 plate appearances for the Giants in 1949.
After 15 years in the major leagues, Augie signed with the Oakland Oaks as a free agent in 1950. He played first base and outfield in 1950, hitting .282 and in 1951, hitting .307. He also coached under manager Mel Ott. His lifetime Pacific Coast League batting average was .313.
He was named manager of the Oaks in 1953, but the team finished seventh and Galan was fired at the end of the season. He went on to coach for the Philadelphia A's in 1954, then retired to manage a string of meat markets he owned in the Bay Area.