Jack Jensen
Oaks' Outfielder
5', 11"; 190 pounds
Bats right; throws right

Jack Eugene Jensen was born March 9, 1927 in San Francisco, California. An all around athlete, he was a football, basketball and baseball star at Oakland High School before he joined the Navy. He enrolled at the University of California, Berkeley, in 1946, and instantly became the Bears' star fullback. The first time touched the ball in the opening game against Wisconsin, Jackie broke five tackles in a 56 yard punt return. Although his team had a losing season, Jackie was chosen as a freshman to play in the East-West Shrine All Star game that year.

In 1947, as a sophomore, Jensen played both offensive and defensive fullback for coach Pappy Waldorf's Golden Bears. In his junior year he took the Bears to the 1949 Rose Bowl after a 10-0 season. Although his team lost the bowl to Northwestern, Jensen's running skills earned him All American honors, and he was fourth in voting for the Heisman Trophy that year.

At the same time, Jackie was also earning All-American baseball honors. Twice he was selected to the All-Pacific Coast team. In 1947, he hit the longest home run in the history of Cal baseball, going 525 feet over the left field fence. Even though he was an excellent hitter, as a college player Jensen was celebrated primarily for his pitching. He led Cal to victory in the first NCAA College World Series, defeating a Yale team with future President George Bush at first base.

Rather than return to football in his senior year, Jackie decided to play baseball professionally. On May 25, 1949, the Yankees reportedly offered him a $35,000 to $40,000 contract. Oaks' owner Brick Laws was the father of one of Jackie's fraternity brothers at the Alpha Delta Phi house, and when he learned the offer he signed Jackie the following day to a contract of $75,000 divided equally over three years, with a bonus in excess of $5,000 and a Cadillac convertible. Jackie promptly debuted in an Oaks' uniform as a 7th inning replacement for Maurice Van Robays. He flied out and lined out in two at bats, but the following night he got three hits.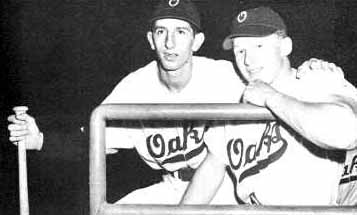 After getting off to a poor start with the fans, Jackie's performance improved over the season, and he finished with a .261 average and 9 home runs in 125 games. He never technically played for the Oaks in the 1950s because two days before the 1950 draft, owner Brick Laws sold him, along with Billy Martin, left, to the Yankees for a reported $100,000 and players.
He will go on to play for the Washington Senators and most notably the Boston Red Sox, and will later coach college baseball for the University of Nevada at Reno and the University of California at Berkeley. At one time married to Olympic diving champion Zoe Ann Olsen, Jackie Jensen will become the only man to play in an East-West football game, a Rose Bowl, a baseball All Star game and a World Series.
JACKIE JENSEN'S MAJOR LEAGUE STATISTICS
| | | | | | | | | | | |
| --- | --- | --- | --- | --- | --- | --- | --- | --- | --- | --- |
| YR | TM-L | G | AB | R | H | HR | RBI | AVG | OBP | SLG |
| 1950 | NY-A | 45 | 70 | 13 | 12 | 1 | 5 | .171 | .247 | .300 |
| 1951 | NY-A | 56 | 168 | 30 | 50 | 8 | 25 | .298 | .369 | .500 |
| 1952 | NY-A | 7 | 19 | 3 | 2 | 0 | 2 | .105 | .261 | .263 |
| 1952 | Was-A | 144 | 570 | 80 | 163 | 10 | 80 | .286 | .360 | .407 |
| 1953 | Was-A | 147 | 552 | 87 | 147 | 10 | 84 | .266 | .357 | .408 |
| 1954 | Bos-A | 152 | 580 | 92 | 160 | 25 | 117 | .276 | .365 | .472 |
| 1955 | Bos-A | 152 | 574 | 95 | 158 | 26 | 116 | .275 | .375 | .479 |
| 1956 | Bos-A | 151 | 578 | 80 | 182 | 20 | 97 | .315 | .407 | .497 |
| 1957 | Bos-A | 145 | 544 | 82 | 153 | 23 | 103 | .281 | .370 | .469 |
| 1958 | Bos-A | 154 | 548 | 83 | 157 | 35 | 122 | .286 | .398 | .535 |
| 1959 | Bos-A | 148 | 535 | 101 | 148 | 28 | 112 | .277 | .379 | .492 |
| 1961 | Bos-A | 137 | 498 | 64 | 131 | 13 | 66 | .263 | .353 | .392 |
| Totals | Total | 1,438 | 5,236 | 810 | 1,463 | 199 | 929 | .279 | .372 | .460 |