Jim Marshall
---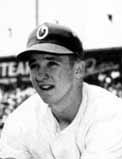 Jim Marshall
Oaks' First Baseman

Jim Marshall was born in Illinois, but grew up in Southern California. He attended Compton High School in Los Angeles and Compton Community College, where he played baseball, football, and basketball. He later attended Long Beach State College.

Big Jim, at 6' 1", 195 pounds, first appeared for the Oaks in 1950, when he came up from the Albuquerque team to appear in four games. He started the 1951 season in Oakland, hitting .255 with 9 home runs, but finished the season in Wenatchee. He spent most of the 1952 season in Nashville, where he hit .296 with 24 home runs and 98 rbi's.

In 1953, Jim returned to Oakland, where he batted .273 and finished second to Bill Howerton with 24 home runs and 99 rbi's for the Acorns. Jim would have probably accumulated more but for a pulled thigh muscle which took him out of play for a month.

Jim's best year was 1954. After getting off to a slow start, he batted .285 and lead the Pacific Coast League in both home runs (with 31) and rbi's (with 123). The Oaks ended up in the Governor's Cup playoffs against the Seals that season. Jim managed to hit a home run in each of the first two playoff games, and drove in pitcher Don Farraresse with a third-inning single that clinched the third game for the Acorns. Thanks in part to Jim's efforts, the Acorns took home the Cup.

Jim Marshall will go on to play for five major league teams, and manage the Chicago Cubs in 1974- 1976 and the Oakland A's in 1977.
Click Here
(c) Copyright William B. Shubb, 1998.