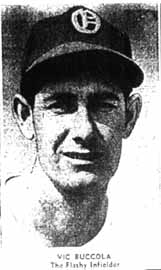 VICTOR VINCENT BUCCOLA
Oakland First Baseman
Nickname, "Skin"
Throws left, bats left
Height--6'
Weight--155 lbs.
Born Los Angeles, Calif., March 21, 1922. Italian descent. He attended Lincoln High School, Los Angeles, California, where he was a four-letter man in baseball, two year captain of varsity basketball team and two-year letterman in track. Winter occupation is working with his father in a foundry. Loves spaghetti.
Professional Baseball Experience: 1941-42, Spokane, Western Intl. League; 1943-44-45, Armed Service, U.S.A.; 1946, Oakland, P.C.L.