Mickey Burnett
---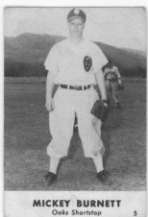 Oral Escal Burnett
Infielder--Nickname, "Mickey"
Height 5' 9"
Weight 165 lbs.
Throws right, bats right
Snappy Mickey Burnett, 28, came to the Oaks from the St. Louis Cards just before the '46 season opened. This is his 10th summer in baseball has infielded for Rochester, Sacramento, and Mobile. He was in the service during '45, with the Cards in '44, and Sacramento in '43. He clunked out 79 hits for a .238 mark last year.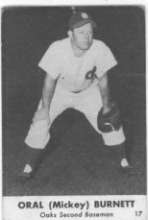 Born in Eureka Springs, Ark., on October 6, 1918. Irish-Dutch-English descent. "Mickey" attended high school in Richmond, Calif. He won letters in baseball, football, basketball and boxing. His dad's a Fire Chief. For pets he has a drove of retired fire horses. Likes Norwegian gals. Says the toughest thing in baseball is to keep hustling when the team is losing. Believes it's bad luck to shave before a game. Boyhood idol: Babe Ruth; present-day favorite: Marty Marion. Runs a gas station in Oakland during the off season. Likes all sports.
Professional experience: 1937, Rock Island, Neb., State League; 1938, Paducah, Kitty League; 1939, Pocatello, Pioneer League; 1940-41, Mobile, South Eastern League; 1942, Rochester, International League; 1943, Sacramento, Pacific Coast League; 1944-45, Rochester; 1946, Oakland, P.C.L.

---