Ralph Buxton
---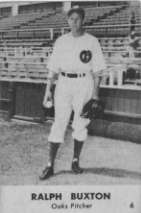 Ralph S. Buxton
Oaks Pitcher
Nickname, "Buck"
Throws right, bats right
Height 6 foot; weight 168 lbs.
Ralph "Pine Tar" Buxton, 32, has been with the Oaks 9 years since '39. He won 10 and dropped 5 in '46. Had his top season with the Acorns in '40 when he chalked up 17 wins. He chucked for the Philadelphia Athletics in '38. Also tossed for the Los Angeles Angels and Williamsport. His most effective pitch is the screwball. Boyhood idol: Babe Ruth; present day favorite: Ted Williams. Believes the Red Sox and Cardinals will cop major league pennants. Likes to fish and golf.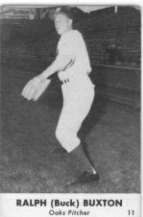 Born in Weber, Canada on July 4, 1914. Had he been born in this country his nickname probably would have been "Firecracker." English descent. His parents were born in Canada. Attended hight school in Long Beach, Calif., where he won letters in baseball. Won his first professional game 3-2. Was with Ponce City, Los Angeles and Oklahoma City when they won pennants. His baseball ambition is to climb back into the majors. Otherwise he wants to own a small business. Says the toughest thing in baseball is to get the ball over the plate in a windy park. He has practically all of the orthodox superstitions.
On August 14, 1948, when Ralph was within one strike of completing a victory against San Francisco, Seals manager Lefty O'Doul persuaded the home-plate umpire to check Buxton's glove. The umpire found pine tar and confiscated it. However, because Buxton was allowed to finish the game, O'Doul protested to league offices. Buxton was suspended for 10 days and the Oaks were forced to replay the ninth inning. After lots of wrangling, the Oaks traveled to San Francisco on September 21 to play the single inning (before a Seals game with Seattle). The Oaks won.
Click on the sounder below to hear a recording of Oaks' broadcaster Bud Foster and commentator Bill Laws describing the incident.

( Allow a short time for the short 500 kb. wav file to download. It is worth the wait and will not take up space in your hard drive.)
Professional baseball experience: 1934 with Ponca City, Western Association. 1935 Los Angeles. 1937 Oklahoma City, Texas League. 1938 Williams Port, Eastern League. 1939-40-41-42 Philadelphia, American League. 1943-44-45-46 Oakland, Pacific Coast League.

---