Charlie Gassaway
---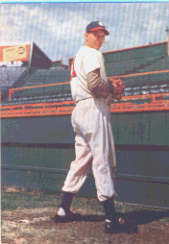 Charles Cason Gassaway
Pitcher--nickname, "Sheriff"
Height--6' 2"
Weight--190 lbs.
Throws left, bats right and left
Born on August 12, 1918 in Gassaway, Tennessee--a town names after one of his ancestors--the "Sheriff" attended high school in Nashville, Tenn. He has a pet dog called "Lollypop"; hardly sounds ferocious.
His baseball ambition is to play twenty years--his greatest thrill was signing his first professional contract.
Of English-Irish descent, he has blue eyes, brown hair. He has been playing professional baseball since 1936, serving two years with the majors. He was with Cleveland part of last season and with the Philadelphia A's in '45. Has hurled for the Chicago Cubs and Milwaukee Brewers. Came to the Oaks in '46.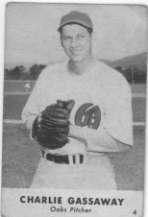 A true sportsman, he likes hunting ans fishing. He works as a fireman during the winter. Learned baseball on the sandlots. Boyhood idol: Lefty Grove; Present-day favorite: Ted Williams.
Professional experience: 1936, Owensboro, Kity League; 1937, Tyler, East Texas League; 1938, Pensacola, S. Eastern League; 1939, Nashville, S. Assn.; 1940, Elmira, Eastern League; 1941, Montreal, International League; 1942, Nashville; 1943-44, Milwaukee, American Association; 1945, Athletics, American League; 1946, Oakland, P.C.L. Also played brief engagements with Binghampton, Newark, Jersey City and Chicago Cubs.



See how the Sheriff throws his famous curve ball.
---