Hershel Ray Martin
---

Hershel Ray Martin, outfielder. Nickname, "Hersh." Born, Birmingham, Ala. September 19, 1909. English-Irish descent. Hair black. Eyes brown. Height 6-2. Weight 190. He learned baseball on the Alabama sandlots. Attended high school at Ponca City, Okla., and Oklahoma A. & M., but did not graduate from latter. Lettered in baseball, football, track & basketball in both schools. In high school he was captain of the baseball, football and basketball teams. Has been on two pennant winners. Says he owes most in baseball to his wife, "who kept me playing when I wanted to quit." Best year, 1944, Milwaukee, batted .368.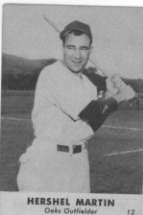 HERSHEL RAY MARTIN
Outfielder--Nickname, "Hersh"
Height--6'2" Weight--190 lbs.
Throws right, bats left and right
Switch-hitter Hershel Martin, 37, is a real veteran. With the Yankees in '44 and '45 and the Phillies in '37 to '40. His father is an oil refinery employee. He has three bird dogs, "Sam", "Trix", and "Dutchess". Farms in the winter. Hobbies include hunting and fishing; plays the piano; loves biscuits, black eyed peas and beans.
Feels its bad luck to walk on foul lines. Superstitions also include hat on bed and black cats. Boyhood idol was Babe Ruth. Hersh also likes to play football and basketball.
Professional baseball experience includes: 1935, Bloomington, Three I league; 1936, Houston, Texas league; 1937-38-39-40, Philadelphia, National league; 1941, Jersey City, International league; 1942, Oklahoma City and Tulsa, Texas league; 1943, Milwaukee, American Association; 1944, Milwaukee, American Association; New York, American league; 1946, Oakland, Pacific Coast League.

---