Jack Salveson
---

Jack Salveson
Oaks Pitcher
Jack first pitched for the Oaks in 1939, after he was acquired from the Los Angeles Angels for $1,000. A bespectacled right handed pitcher known for his control, Jack pitched 233 innings and chalked up a record of 12 -15 that year. He stayed with the Acorns until 1943, when he was drafted to the majors by the Cleveland Indians.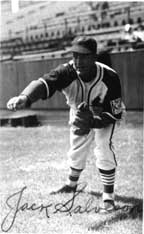 He returned to the Pacific Coast League, playing for the Portland Beavers in 1946 and the Sacramento Solons in 1947. The Oaks acquired him again early in the 1948 season, and he has been a valuable member of the Casey Stengel's pitching staff.
Hear Oaks' broadcaster Bud Foster and commentator Bill Laws explain why Jack Salveson was considered the "concessioners' most favorite enemy."

---
(c)1998 William B. Shubb