Les Scarsella
---
Les George Scarsella
Oakland First Baseman and Outfielder
Nickname, "Scar"
Height--5' 11"
Weight--190 lbs.
Throws left, bats right
American-Italian descent. Father born in Italy. Les was born in Santa Cruz, California, November 23, 1913. Attended high school in Richmond, California. Attended St. Mary's College three weeks, which was long enough to become a collegiate baseball star. Signed his first contract with Prof. Chas. E. Chapman, head of History Dept. of U.C. and Cincinnati scout.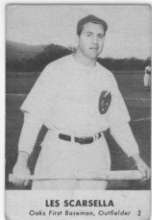 With the Oaks since ?42. Slugged 22 homers, piling up a .332 average last season. Won St. Louis Sporting News' most valuable player award in ?44 after winning the PCL batting crown. Played in the majors with the Reds and Braves. Has walloped 106 homers in his career. Boyhood idol: Ernie Lombardi; present day favorite: Ted Williams. Is a bowling enthusiast. Loves Italian food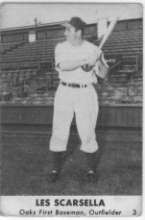 Professional experience: 1934-35, Wilmington, Piedmont League; 1936, Toronto, International League; 1937, Cincinnati, National League; 1938, Newark, International League; 1939, Cincinnati; 1940, Boston; 1941 and part of 1942, Seattle, PCL; part of 1943-44-45-46, Oakland, PCL.
Visit Les Scarsella's
across the street from the ball park.
---