Glen Stewart
---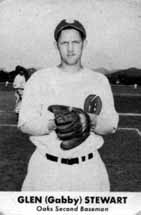 Glen Weldon Stewart
Oaks Second Baseman
Bats right; throws right
Height 6' 0"; weight 175 lbs.
Peppery Glen Stewart was born in Tullahoma, Tennessee on September 29, 1912. He moved to Memphis where he played varsity baseball for Central High School. He and his brothers, Russell and Milton, made the All-Memphis baseball team in the same year, the only time that has ever happened to brothers.
In 1939, he played for the Jersey City Giants and was named the team's most valuable player. He went to the majors in 1940, playing in 15 games for the New York Giants. He then returned to minor league ball, playing for his hometown Memphis Chicks in 1941. Then it was back to the majors with the Philadelphia Phillies in 1943 and 1944, batting .211 and .220 in successive years. He joined the Oaks in 1945, and has worked the Emeryville infield during the '46 season.
Glen learned baseball on the Tennessee sandlots. His boyhood idol was Babe Ruth. Contemporary favorite is Mel Ott. Likes hunting, basketball, and football. He talks very little about anything, thus he got the nickname "Gabby."