Jim Tobin
---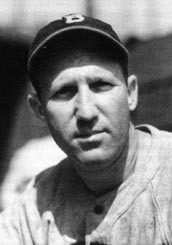 Jim Tobin
Oaks Pitcher
While a student at Roosevelt High School in East Oakland, Jim Tobin attended baseball school sponsored by the Oaks. Acorns' management liked what they saw and sent Jim to their Bisbee-Douglas team in the Arizona-Texas League. Even though he had a winning percentage of 9 wins and 2 losses, the Oaks didn't recall him. He was signed by the Yankees, who sent him to Binghamton and Wheeling, where he chalked up a combined 11- 8 record in1933 and 15 - 10 in 1934.
The Yankees sent Tobin back to Oakland in 1935, where hurled 11 - 8 for the Oaks, until he tore a cartilage in his left knee on July 14 while backing up third base on an outfield throw. After missing the rest of the season, he missed Spring training for the Yankees the following season because of appendicitis. He therefore returned to Oakland in 1936, acquiring a 16 - 8 record. The Yankees wanted him back in Oakland in 1937, but he refused to report and arranged a deal with the Pirates instead.
Tobin spent nine years in the big leagues, in Pittsburgh, Boston and Detroit, between 1937 and 1945. When he was with the Braves, Casey Stengel turned Jim into a relief pitcher. Jim then began throwing a knuckleball in 1944, and pitched two no hitters plus a nine-inning shutout. When Tobin was with the Tigers in 1945, they won the American League pennant, but he did not appear in the World Series.
He returned to the Pacific Coast League in 1946, pitching for the Seattle Rainiers and San Francisco Seals. He was released in 1947, and went back to semi-pro ball. The Oaks signed him in August of 1948. He finished the season by pitching the last out against the Sacramento Solons, clinching the pennant for the Acorns.

---