Frenchy Uhalt
---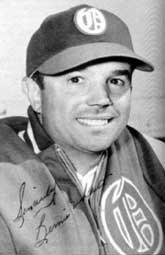 Bernard Bartholomew "Frenchy" Uhalt
Oaks Outfielder
5' 10", 180 lbs.
An all around athlete, Frenchy quarterbacked his Bakersfield High School football team to the state prep championship in 1927. He turned down college football scholarship offers to sign with the Oaks in 1928.
After 61 games at Bakersfield in the California State League the following season, he was called back to Oakland, where he played the next six seasons. In 1936, he went to Milwaukee. Returned to the Coast League in 1938 and played for the Hollywood Stars from 1938 to 1942 and the San Francisco Seals from 1943 to 1947. With the Stars he had the second highest batting average (.332) in the League and led in thefts; and when Gilmore Field opened in 1939 he won a pair of shoes, a hat and two shirts for getting the first hit, first double, first steal and first run. He was one of the key players with the Seals, hitting over .300 twice in his five years there.
After he broke his ankle sliding into home with the winning run against the Oaks in 1947, the Seals let him go the day before the 1948 season began, and he signed with the Oaks. Has played 25 games with a .205 average for the Acorns in the '48 season.

---