Tommy Munoz
Oaks' First Baseman

Shown in the photo on the right in his last game before signing with the Oaks on February 25, 1952, Tommy Munoz demonstrates his defensive ablities fielding a wild throw at first base. At the age of 18, Tommy was described as the best all around first baseman to come out of the Bay area since Ferris Fain. In his last year at San Leandro High, he was one of the most highly scouted high school players in the East Bay. As an Oaks fan, Tommy happly accepted a three-year, $30,000 contract with owner Brick Laws to play for the Oaks. The next day, the Cleveland Indians offered him $80,000.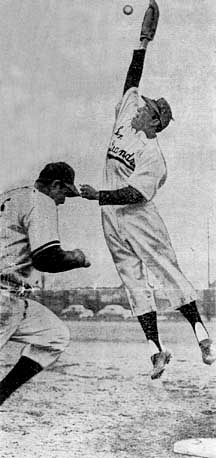 Upon his mid-semester graduation from San Leandro, Tommy went to Spring Training with the Oaks in March of 1952. As he later related to PCL historian Dick Dobbins, "When I entered the Oaks' clubhouse (trainer) Red Adams was real nice to me. He asked me what number I wanted on my uniform and introduced me to the players as they started coming in. One can't imagine what a thrill it was to be in the same locker room."
Upon meeting Manager Mel Ott for the first time, Munoz said, "Ott was very helpful to me. I was only 17 when I signed and he was only 16 when he reached the majors. He knew I would be nervous so he picked me up and helped me alot to build my confidence."
His biggest thrill came in an exhibition game against the Giants at Oakland, when Sal Maglie had a perfect game going after six innings. Ott told Tommy to bat for the pitcher and break up the no-hitter. Tommy did, and got a hit.
The fact that Jim Marshall was also in the Oaks' lineup prevented Munoz from seeing more action. Also a first baseman, Marshall was a couple of years older than Munoz, and the Oaks felt they had a big payoff with him. By playing Marshall, there was no room on the roster for Munoz and he was optioned to Albuquerque in 1952 and Wenatcheee in 1953-54.
As Tommy told Dick Dobbins, "In Spring Training, the players were great. They knew I wasn't going to take their job away. Piper (Davis) was a wonderful person. He helped me and every other youngster any way he could. There are ballplayers who won't help rookies, but Piper wasn't one of them.
"Bill Howerton and Sam Chapman were also great. Part of being away from home . . . they could sense it and they could pick you up. 'Let's go to dinner. Let's go to a show.' Eddie Lake was my roommate. He was from San Leandro and I already knew him. He kept an eye on me."
Dobbins observed, "Munoz's career with the Oaks spanned parts of 1952-54. He was an excellent example of how luck can affect a career. One day's hesitation and Munoz might have signed with another team for more money, and he may have found less competition at his position. Still, Tommy never expressed regret."
Quotes from Dick Dobbins' Nuggets on the Diamond.