Ray K. Brubaker
---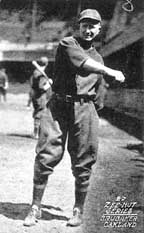 Ray Brubaker
Oaks Infielder, 1920-1935
Manager, 1933-34
Utility man Ray Brubaker played 15 consecutive years with the Oaks beginning in 1920. He contributed to the team effort not only in the field but by his pinch hitting as well. In 1927, he was a strong factor in bringing the PCL pennant to Oakland by hitting .323 in 155 at bats.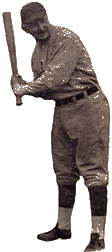 He took his turn at managing the team in 1933, when most observers expected the Oaks to occupy the cellar. But Brubaker was fortunate to have teenager Harry "Cookie" Lavagetto in his first season with Oakland before he was promoted to the Pirates. Young center fielder Bernie Uhalt also contributed to the team by batting .350 and stealing 62 bases for the Oaks that season before being purchased by the White Sox. Art Veltman, who was sent to Oakland by the Giants, and rookie Billy Raimondi gave Brubaker the best catching combination in the league. Still, without a lot of power hitters, Brubaker played a running game, with his players leading the league in stolen bases. He surprised most everyone by finishing the team in fifth place, with a winning record of 93-92.
Brubaker continued on as manager until part way into the following season, when Veltman, who had been drafted back to the National League by the Pittsburgh Pirates at the end of the 1933 season, returned to take the reins as the Oaks' manager for the rest of 1934. Brubaker continued to play for the Oaks another season.

---
Return to The Oakland Oaks webpage.
(c) Copyright William B. Shubb, 2002.