---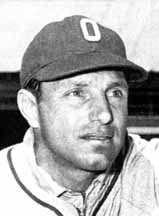 Born in San Francisco on April 23, 1907, after eight years in the minors Dolph Camilli made his major league debut with the Chicago Cubs at the end of the 1933 season. He was traded to Philadelphia in 1934 and quickly established himself as a power hitter. In 1941, he joined with shortstop Pee Wee Reese, rookie center fielder Pete Reiser, and a host of veteran players picked up by Dodgers' General Manager Larry MacPhail to bring the pennant to Brooklyn.
Although he was only 5' 10" and 185 lbs., he was a great first baseman and had a ferocious swing that would swat balls over Ebbets Field's right field screen onto Bedford Avenue. He won the MVP award in 1941 by hitting .255 while leading the league with 34 homers and 120 RBI's. In 1942, he hit 26 homers and drove in 109 runs as the Dodgers finished second, two games behind the St. Louis Cardinals. But he struggled early in the 1943 season, and was traded to the Giants.
Camilli hated the Giants. So in 1944 he was happily traded to the Oakland Oaks for Bill Rigney. Dolph continued to play first base while managing the Oaks.
He did a great job of managing the Oaks team in 1945, considering that he was dealing with wartime players and problems. But he took himself off first base to give Mission High grad Vic Picetti a chance. Neither the fans nor Oaks owner Brick Laws liked that decision, and Camilli was replaced by Billy Raimondi as manager mid-way through the 1945 season.
Camille finished the 1945 season with the Boston Red Sox, before quitting for good. In 12 seasons, he hit 239 home runs, with a batting average of .277. He finished his baseball career as a scout for the Yankees and spring training instructor for the California Angels. He died in San Francisco at the age of 90 on October 21, 1997.

---
(c) Copyright William B. Shubb, 2000.