Art Devlin
---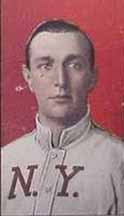 Arthur McArthur Devlin
Bats: Right Throws: Right
Height: 6' 0"
Weight: 175 lbs.
Born: Oct 16, 1879 in Washington, DC
Died: Sep 18, 1948 in Jersey City, New Jersey
College: None
Having just won their first Pacific Coast League pennant under manager Bud Sharpe, the Oaks were riding high at the end of the 1912 season. But Sharpe resigned, and Oaks catcher Carl (Honus) Mitze took over in 1913. When Mitze became openly unhappy in midseason in the manager's role, the Oaks' ownership brought in star major league infielder Art Devlin to take his place, and Mitze returned to catching.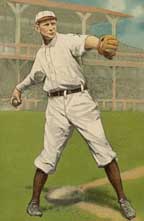 After two minor league seasons at Newark, Devlin had made his major league debut with the New York Giants on April 14, 1904, and was a mainstay of the team after that. In three of his eight seasons with the Giants, he led the National League third basemen in assists. In 1908, he gained the best fielding and put-out record of all third basemen in the league, and it was not because he dodged the difficult fielding chances and thus escaped errors. On the contrary, he had a total for 1908, 1909, and 1910 of 573 put outs and 932 assists, more than any other third baseman in the National League, and some of his stops looked impossible before he made them.
An alert and speedy player, Devlin had good range at third base (he still ranks 15th all-time in chances per game) and stole more than 20 bases six times, tying for the league lead with 59 in 1905. Devlin's best batting average was .299 in 1906. He averaged only one home run per year, but his first homer came in his first major league at bat, with the bases loaded. After his eight seasons with New York, he finished his major league career with Boston in 1912 and 1913.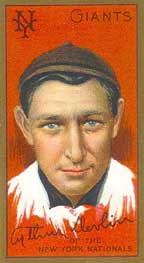 Devlin's experience at the helm of the Oaks was not so successful, however. The team did poorly in 1913, and were headed for a fifth place finish in 1914, when he left Oakland in mid-season and went on ultimately to become a coach.
Devlin remained a scrappy participant in the sport. In 1910, while he was still playing for the Giants, he and two teammates were jailed for attacking a Washington Park fan who had been verbally abusing them. Then in 1926, while coaching for the Braves, after Reds third baseman Babe Pinelli brushed him while returning to the dugout, Devlin took a swing at him, starting one of the great baseball fights of the century. Police had to restore order, but not before Boston outfielder Frank Wilson was arrested and taken to jail for hitting a police inspector.
---
(c) Copyright William B. Shubb, 2000.