Rowdy Elliott
---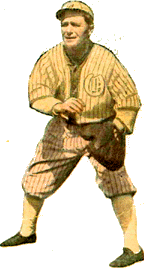 Harold B. "Rowdy" Elliott
Bats: Right, Throws: Right
Height: 5' 9"
Weight: 160 lbs.
Born: July 8, 1890, in Kokomo, Indiana
Rowdy Elliott made his major league debut with the Boston Braves on September 24, 1910. He came to bat only twice with no hits in three games that season. He returned to minor league ball, and in the middle of the 1915 season, when he was just 25 years old, he succeeded Tyler Christian as manager of the Oakland Oaks. He was called back to the majors by the Chicago Cubs the following season, and Del Howard was brought in to replace him as manager of the Oaks.
Elliott played in 23 games for the Cubs in 1916, with an average of .255. In 1917, he played in 85 games and hit .251. He returned to the Pacific Coast League in 1919 after playing in only five games for the Cubs the preceding season, and anchored the Oaks' catching staff, along with Carl Mitze. In 1920, he was called back to the majors, where he played one more season for the Brooklyn Dodgers, hitting .241 in 41 games.
He died tragically on February 12, 1934, at the age of 33, when he fell out of a San Francisco window.
(c) Copyright William B. Shubb, 2002.