Brooks Holder
---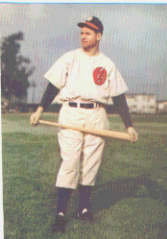 Brooks Richard Holder
Oakland Outfielder
Height--5' 10"
Weight--180 lbs.
Born in Rising Star, Texas on November 2, 1915. Scotch-Irish descent. Hair, brown; eyes, grey. Brooks attended high school at Crockett, California, where he played on all star teams in baseball, football and basketball three years. Winter occupation, factory work. Hobbies, hunting and fishing. Food: plain, but "with lots of milk."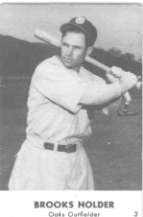 Brooks started professional baseball in 1935, chalking up a .304 average with Des Moines, in the Western League. Joined the P.C.L. with the Seals near the end of the '35 season. His first game with the Seals was against Hollywood. In 1936, he hit .289 as the Seals' regular second baseman. In 1937, Seals manager Lefty O'Doul moved Holder to the outfield in order to platoon him with Dom DiMaggio. Brooks became their regular right fielder and Dom their regular in center. The next three years, '38, '39, and '40, he batted .319, .330, and .314, scored more than 100 runs in two of those years, and hit 24 triples to tie the league record in 1939. After playing eight years with San Francisco, scoring 110 or more runs in five of those seasons, he was traded to the Stars for Del Young and outfielder Frenchy Uhalt.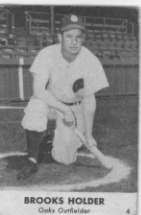 Because of the shorter park in Hollywood, Holder doubled the number of home runs he hit for the Stars, but his cumulative average over three seasons in Hollywood dropped to .272. In 1946, he purchased his release from Hollywood for $2,500 and signed with the Oaks for a $3,000 bonus. With the Acorns, he led the league in bases on balls in 1946 and 1947, walking 131 times in 1946 and 136 times in 1937. By 1947, under Casey Stengel's watchful eye, he had also brought his average back up to .311. In 1948, he scored 99 runs, with an average of .297.
Brooks, 30, is a soft-spoken Texan but he's mighty hard on pitchers. Drew 131 bases on balls while batting .283 in '46; socked 13 homers. Second season with the Oaks. Had his best year with the Seals in '38. . . hit .320, collecting 193 basenocks. Was with the Seals 7 years, Stars 3 years. Learned baseball on the sandlots. Boyhood idol: Gus Suhr; present-day favorite: Ted Williams. Likes to hunt, fish; enjoys all sports.
Professional Baseball experience: 1935, Des Moines, Western League; 1936-37-38-39-40-41-42, San Francisco, P.C.L.; 1943-44-45, Hollywood, P.C.L.; 1946, Oakland, P.C.L.

---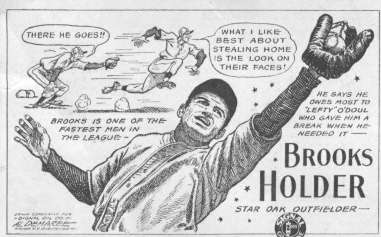 ---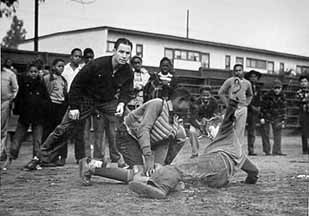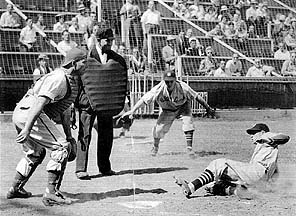 Brooks takes a real interest in working with kids. Hollywood Stars bat boy George Grant said that when he had problems Brooks would take him aside to play catch, with some good solid "Dutch uncle" advice thrown in. It made a real difference to him. In the picture on the left, Brooks takes time to coach some youngsters on the fine points of sliding and tagging the runner at the plate. In the picture on the right, Brooks demonstrates some artful sliding of his own in a real game situation.

---
Copyright ©William B. Shubb, 1997-2003.