Roy Hughes
---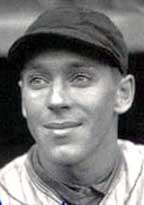 Roy John Hughes
Oaks' Infielder
Bats Right, Throws Right
Height 5' 10", Weight 167 lbs.
Born on in Cincinnati, Ohio on January 11, 1911, Roy Hughes was the Cleveland Indians' regular second baseman from 1935 to 1937. In 1936, he batted a career high of .295. He played for the Browns in 1938 and the first half of the '39 season, until he was traded to the Phillies, where he played until called to the military in 1940.
He returned in 1944 to play for the Cubs, and was their shortstop in the 1945 World Series. In 1946 he went back to Philadelphia to finish his major league career with the Phillies. Nicknamed "Sage" or "Jeep" because of his speed on the base paths, Roy played a total of 762 regular season and 6 World Series games in the major leagues, with 208 RBI's and a career average of .273.
After nine seasons in the majors, at the age of 36, Hughes was brought to Oakland in 1947 to round out the Oaks' veteran infield along with Dario Lodigiani, Mickey Burnett, Glen Crawford, Ray Hamrick, Tony Sabol, and Gene Lillard.

---
Copyright William B. Shubb, 2002.