Thornton Lee
---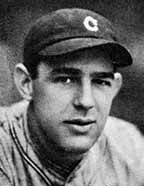 Thornton Lee
Oaks Pitcher
Bats left, Throws left
Height 6' 3", Weight 205 lbs.
Thornton Starr Lee, from Sonoma, California, began his Major League baseball career with the Cleveland Indians in 1933. After struggling for four years, his fortunes changed when White Sox manager Jimmy Dykes acquired him from the Indians in a three-way deal that sent Jack Salveson from Chicago to the Washington Senators and Earl Whithill from Washington to Cleveland. Lee went on to pitch for Chicago for the next 10 years.
Relying on fine control and a sinking fastball, he blossomed under the tutelage of White Sox coach Muddy Ruel and became one of major league baseball's top left handers from 1937 to 1941. But little offensive support left him on the losing end of many close decisions. In 1941 he led the American League with 30 complete games and a 2.37 ERA, and collected a $2,500 bonus for winning more than 20 games.
After breaking his arm and undergoing two bone chip removals and a neck operation, he bounced back in 1945, going 15-12, and pitching in the All Star game as he did earlier in 1941. In 1948, he was acquired by the New York Giants. He divided his time in '48 between the National League, where he pitched 37 innings with an era of 4.41 for the Giants, and the Pacific Coast League, where he contributed to the Oaks' pennant winning season.
At the age of 42, "Lefty" Lee qualifies as one of manager Casey Stengel's "old men," although he will leave the Emeryville nine before the end of the 1948 season.
---
Copyright William B. Shubb, 2002.