Mighty Oaks of the Past: HUGH LUBY
---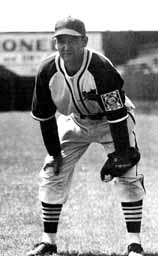 Although Hugh Luby played for the Seals the last three seasons in 1946, '47 and '48, let us not forget the tremendous contribution he made to the Oaks in preceding years.

Luby grew up in Omaha, and was a member of the Nebraska state champion American Legion team in 1929. After a brief stint at Creighton University, at the age of 18, he broke into professional baseball with Norfolk of the Nebraska State League in 1931. He played two more years in Norfolk and three with Sioux City in the Western League. After leading the league in stolen bases and batting for an average of .319, he went to the majors in 1936, playing in 9 games with the Philadelphia Athletics.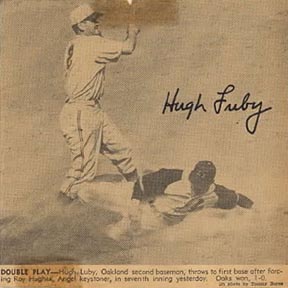 In 1937, he was sent to Atlanta, where he hit .320 with 208 hits. He made his Pacific Coast League debut with Oakland the following year in 1938. In six years with the Oaks, from 1938 to 1943, he set the PCL record by playing 866 consecutive games, and in his last five years with Oakland he never missed a single game. He batted over .300 three times and got more than 200 hits in two of those seasons. In his last three years as an Acorn, he averaged .301, .310, and .313, respectively.
His record setting consecutive game streak ended when he was drafted by the New York Giants at the end of the 1943 season. He batted .254 in 111 games with the New York Giants in 1944 and spent 1945 in the Navy before returning to the PCL with San Francisco in 1946.
While not known as a power hitter, Luby has been the prototype lead off hitter. The 5-10, 185-pound second baseman batted .300 or better eleven times during his career, and has chalked up a total of 3,169 hits and a .296 average at the minor league level.

(c) Copyright William B. Shubb, 2002.