Billy Meyer
---
Bill Meyer
Oaks' Manager, 1936-37
Oaks owner Victor "Cookie" Devincenzi had negotiated an agreement with the Yankees, whereby the Yankees would loan players to Oakland in exchange for a priority in drafting Oaks players to the Yankee organization. In 1936, after Oscar Vitt returned to the Yankees organization, the Yankees recommended Bill Meyer to take his place as the Oaks' skipper. He was described as a good teacher and compassionate man. The players, particularly Billy Raimondi, liked and respected him. Working mostly with players sent down by the Yankees, Meyer brought the Oaks to a second place finish, 1 1/2 games behind Portland. The following year, they fell almost to the cellar, but Meyer was promoted to manage the Yankees' Newark team.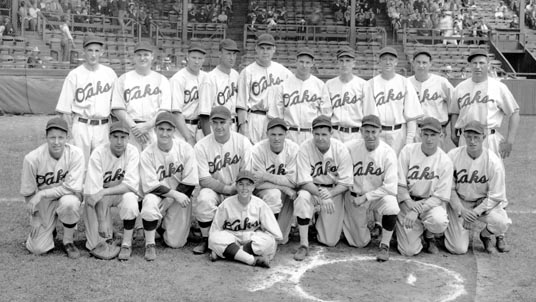 Bill Meyer (third from the right in the front row) with the 1937 Oaks. (Note Billy Raimondi and Dario Lodigiani second and third from the left in the front row.)
(c) Copyright William B. Shubb, 2002.