Carl Mitze
---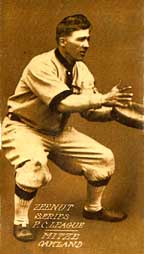 In many ways, Carl (Honus) Mitze can be thought of as the Billy Raimondi of his time--a stalwart catcher who had the opportunity to manage the Oaks team, but preferred the catcher's role. In 1912, Mitze was a tough veteran who sharrred the catching load with John Tiedemann. Mitze batted only .228, but his strength was in handling the pitchers. When manager Bud Sharpe contracted a virus early in the season, it was Mitze who filled in for him during his absences.

After Sharpe resigned, Mitze took over the managerial position in 1913. His tenure was short-lived however. When he made it clear how unhappy he was with the manager's duties, Boston third baseman Art Devlin was brought in to finish the season as manager, and Mitze returned to his post behind the Oakland plate.

---
Return to The Oakland Oaks webpage.
(c) Copyright William B. Shubb, 2002.