Hugh Mulcahy
---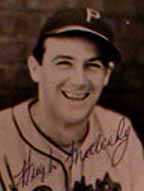 Hugh Mulcahy
Oaks Pitcher
Height 6' 2", Weight 190 lbs.
Bats R, Throws R
Long before he came to Oakland, right-handed fastball pitcher Hugh Noyes Mulcahy was dubbed by sports writers with the ignominious nickname of "Losing Pitcher," because he led the National League in losses in both 1938 and 1940. Nonetheless, before that, from 1937 through the 1940 season, Mulcahy was the Phillies' ace, and he was elected to the NL All Star team in 1940.
He made history in 1941, when he became the first major leaguer drafted by the Army, and he missed the entire 1941-44 seasons while serving in various locations at home and abroad, including New Guinea and the Philippines.
Mulcahy was born in Brighton, Massachusetts on September 9, 1913. Growing up, he loved baseball. As part of the "Knot Hole Gang," he and his buddies would slip into the bleachers at Braves Field in Boston. In grade school he played shortstop, but moved to the outfield in high school. As he became older and taller, and his father suggested that he try pitching, which he did in sandlot ball. After graduating from Brighton High in 1931, he played ice hockey and baseball at the Dean Academy and later pitched semipro baseball in the Boston Twilight League.
In 1933, he was discovered and signed by a scout for the Giants and spent the summer in the class B New England League, where he built an 8-4 record shuttling from North Attleboro to Lawrence to Woonsocket, Rhode Island. When Woonsocket couldn't meet its payroll, Mulcahy left and went to Saranac, New York, to pitch semipro ball for $8 a week, plus room and board.
He returned to the Giants' system in the spring of 1934 and acquired a 14-10 pitching record, striking out 75 batters in 26 games for Manchester of the Northeastern League. The following year, his contract was purchased by the Phillies, and he began his Major League career on July 24, 1935 by retiring the side in order in his first appearance on the mound. He stayed with the Phillies for six years, until his induction into the Army.
When he was discharged from the service after the war, Mulcahy returned to Philadelphia for the 1946 season, but because of illness he contracted over seas, he was not the pitcher he had been in 1940. In 16 games he compiled a 2-4 ledger and a 4.45 ERA, walking 33 and striking out only 12.
He was released by Philadelphia after the 1946 season, and he signed with Pittsburgh, where he made only two appearances in 1947. When the Pirates released him, he was acquired by the Oaks. Pitching for Oakland, he earned only a 1-6 record in 1947. The Oaks released him the following season.
Mulcahy achieved a lifetime major league record of 45-89 with a 4.49 ERA, pitching 1,161 2/3 innings in 220 games over nine years. As with his record with the Oaks, however, he never enjoyed a winning record in the majors.
Thanks to Jim Sargent of the Society for American Baseball Research for the above information.

---
Page created by William B. Shubb, 2002.