Bayard "Bud" Sharpe
---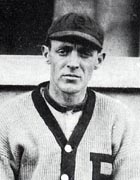 Bayard Heston "Bud" Sharpe
Born August 6, 1881 in West Chester, Penn.
Bats Left, Throws Right
________________________________________
Harry Wolverton was succeeded as manager of the Oaks in 1912 by veteran minor leaguer Bayard "Bud" Sharpe.
Sharpe had made his major league debut with the Boston Braves on April 14, 1905. In his first season as an outfielder for the Braves he hit an unimpressive .182 in 46 games. He returned five years later to play first base for Boston, where he brought his average up to .239, but was traded in mid-season to Pittsburgh, where he finished the 1910 season with a .187 average.
Known as a smart baseball man and an effective leader, Sharpe was expected to be able to fill in at first base as well as manage the Oakland team. Despite a virus which limited his ability to play regularly, he managed to actually play in 101 games and bat .300 while piloting the Oaks to a Pacific Coast League pennant victory.
The pennant race came down to the last day, with Oakland winning the second game of a Sunday double header against San Francisco. Each of the players was presented with a solid gold ring, and Sharpe received a diamond pin. The 1912 pennant hung in the Oakland club office for the rest of the franchise's history.

Manager Bud Sharpe in front of his 1912 pennant winning Oakland Oaks
(c) Copyright William B. Shubb, 2002.