Johnny Vergez
---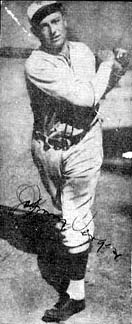 JOHNNY VERGEZ
Bats Right, Throws Right
Born July 9, 1906

Johnny Vergez broke in with the Oaks as a third baseman in 1928.

He played in the majors for the New York Giants from 1931 to 1934, and for the Philadelphia Phillies from 1935 to 1936, finishing the ?36 season for the Cardinals. He played in a total of 672 major league games, with a career average of .255, 52 home runs, and 292 RBI.

When Vergez joined the Giants, he moved aging Hall of Famer Freddie Lindstrom off third base and into the outfield. He was having his best season for the 1933 pennant-bound Giants when felled by appendicitis; he missed the World Series. The following year he batted just .200.

On August 15, 1935, while playing third base for Philadelphia, he started four double plays to equal the major league record set by record of Pie Traynor.

In 1939, he returned to Oakland as player-manager of the Oaks. He was a good teacher and motivator, but after five years and only one winning season as manager, he was fired following the 1943 season and replaced by Dolph Camilli.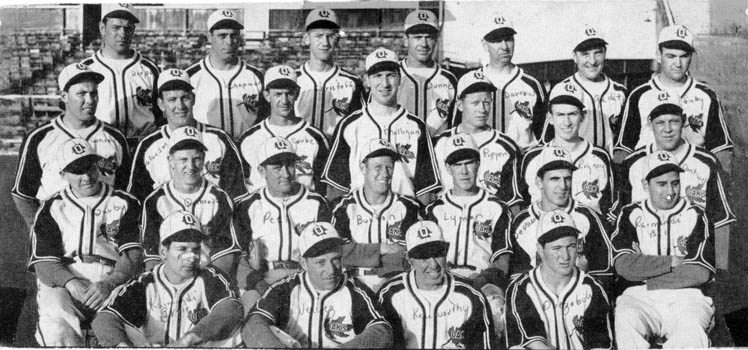 The Oakland Oaks of 1941

TOP ROW: Tony Firpo, Glenn Chapman, Mike Christoff, Cecil Dunn, George Darrow, Marv Gudat, Hugh Luby. SECOND ROW: Bill Conroy, Jack Salveson, Stan Corbett, Joe Mulligan, Cotten Pippen, Bill Rigney, Ben Cantwell. THIRD ROW: Fred Tauby, Pat Ambrose, Homer Peel, Ralph Buxton, Bill Lyman, Ernie Devaurs, Billy Raimondi. FRONT ROW: Ernie Raimondi, Manager Johnny Vergez, Coach Duke Kenworthy, Mel Duezabou.
---
Visit The Oakland Oaks webpage. (c) Copyright William B. Shubb, 1999.