Dutch Zwilling
---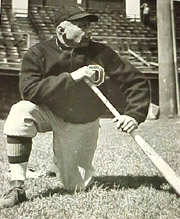 DUTCH ZWILLING
Bats left, throws left
Height: 5' 6"; Weight: 160 lbs.
Born in St. Louis, Missouri, November 2, 1888

Edward Harrison Zwilling began his professional baseball career with the St. Joseph, Missouri Drummers, in the Western Association. He later played outfield for Chicago in (in the American, National, and Federal Leagues) in 1910, 1914, 1915, and 1916. Then began a long and successful stint with the Kansas City Blues of the American Association, first as a player and then as manager. He managed several minor league teams before being called to Oakland in 1938.

Serving in the Pacific Coast League as the Oaks' manager during a low point of the Oakland baseball franchise, Zwilling was said to have lost enthusiasm for his job. The Oaks finished the 1938 season in eighth place, winning only 65 games and finishing 50 games behind the champion Los Angeles Angels. With several weeks remaining in the season, Zwilling was notified that his contract would not be renewed, and Cookie Devincenzi signed popular Johnny Vergez to replace him.

Zwilling went on to scout for the Cleveland Indians in 1940. In the 1950s, he worked for the Kansas City Athletics and in the 1960s & 1970s worked for both the New York Yankees and Mets. After working with Casey Stengel, who managed the Oaks 10 years after Zwilling did, Zwilling retired from the Mets in 1973.
---
Visit The Oakland Oaks webpage. (c) Copyright William B. Shubb, 1999-2003.