AS I REMEMBER IT
. . . . . . by John Gilmore

EMERYVILLE BRUNCH
Sunday morning in Emeryville, June 9, l946, coastal fog, common this time of year, began to thin as the sun appeared, positioned by our earth near the top of the sky.
San Francisco's Seals arrived at Oaks Park for the first of two nine inning games played that day, the unique Sunday Pacific Coast League doubleheader schedule when the cross bay rivals played each other in four seven game series per season. They'd been at Seals Stadium through yesterday, to return for the final game that afternoon. The series stood at Seals three wins, Oaks two.
Both clubs were loaded in this initial post war season, their combined attendance to exceed one million three hundred thousand, the Seals setting a long standing minor league record of 670,563 paid fans.
In the east Bob Feller, Ted Williams and Joe Di Maggio shed their military uniforms. Jack Robinson carried a message at Montreal.
We replaced ship/tank/plane/gun spotter guides with baseball cards, followed Larry Jansen and Ferris Fain of the Seals and Oakland's Gene Bearden, Les Scarsella, Wally Westlake and Frank Shea playing for new manager Casey Stengel. The teams were locked in a torrid pennant race, Oakland at this point ahead by two games with favored Los Angeles standing third.
Beautiful day at Park Avenue and San Pablo, traditional wooden stands, a day like all days that fit in a calendar and was 24 hours long, though different from all others because of what happened to individuals, groups, peoples, countries, seas, oceans, lakes, streams, flora and fauna, creatures and critters. For me, it was my first professional baseball game.
The United Nations Charter was signed in San Francisco April 25; while a Jewish state in Palestine occupied negotiation tables, trials of axis war leaders occupied a portion of the world stage from Nuremberg and Tokyo; that Tuesday Governor Earl Warren won both Republican and Democratic primary elections; the New York Giants, managed by future Oaks' skipper Mel Ott, and Philadelphia's Athletics were headed for last place in their respective leagues; Billy Martin graduated from Berkeley High, batted .450 for the Yellowjacket baseball team and made an Alameda County all star team; Jack Jensen finished Oakland High, ready to enter Cal; Martin would scrap through an abbreviated Class D season while Jensen's football Bears finished 2-7 that fall; both were a year away from reversals of their futures.
Earning two of the Seals' four wins that week to reach l3-3, Jansen's season record was 30-6, the ERA crown and 31 complete games. Fain hit .312 and drove in a league leading ll2 runs. Bearden and Shea were 15-4 and l5-5, respectively. Scarsella was named the PCL's most valuable player. Westlake stroked .315. All, except Scarsella, went to the majors in l947. San Francisco took the pennant by four games over the Acorns.
Ralph Buxton (10-5), Rugger Ardizoia (15-7), Henry "Cotton" Pippen (14-11)and Floyd Speer (11-8) proved reliable arms on Stengel's pitching staff. Third place Hollywood and cellar dwelling Portland had both a 20 game winner (Ed Erautt 20-14 and Roy Helser 20-16) and losers to match (Ron Smith 16-20 and Dick Barrett 9-21).
The Seals were dressed in gray, navy blue caps with white eyelits and topknot with an intertwined "SF", two inch blue block letter "SEALS" across their left chests and navy stirrups. Both clubs sported well shined black spikes. The Oaks' motif, also classically simple, included white flannels with a scarlet oxford style "O" on the chest trimmed in royal blue, blue caps with scarlet bills and a similar white "O" trimmed in red and a red topknot, the uniform completed with royal blue stirrups.
Crowds were large for these games so we arrived early for the 10:l5 AM first pitch, finding seats midway up in the right field bleachers, part of an overflow throng of 14,008.
Veteran righthander Pippen shut the Seals down 5-0, though he didn't finish the game. In one of the later innings, trouble brewed. Fain thought Pippen sent him chin music. In the bottom of the eighth, Stengel or somebody, perhaps Pippen himself, decided the pitcher should lay down a sacrifice bunt, to send the runner at first to second and scoring position. Pippen bunted. With a shutout going late in the game and up by five runs, would Pippen bunt to the right side? Of course. First baseman Fain fielded the ball and fell on Pippen while tagging him out. What happened? A fight, of course, which involved the teams, umpires and a few fans. When order was restored, Pippen and Fain were thrown out of the game. The bleachers were in verbal uproar. Seals skipper Lefty O'Doul, normally known as "Marblehead" became "Meathead" and others received similar monikers.
Even with that sideshow, the game was over a little after 12:30, time for us to return home, complete the usual chores and be ready to hear the second game broadcast on the radio, won by the Seals 2-1 on a run in the bottom of the ninth probably batted in by Fain before a crowd of 19,609 bringing the week's total to 98,264 paid customers, then a PCL record.
I bought a program for ten cents that morning. That program is long gone. The memories aren't.
---
GENE & CASEY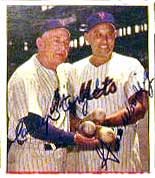 Gene Woodling did Casey Stengel favors, things that occurred from coast to coast involving two men some 33 years apart in age playing roles as adversaries and wearing the same uniforms.

Woodling landed in San Francisco for the 1948 Pacific Coast League season with a mixed resume. It included three lower minor league batting championships at Mansfield (.398), Flint (.394) and Wilkes-Barre (.344) contrasted against non-descript partial years in Cleveland and Pittsburgh sandwiched between World War II military service. Under the watchful eye of Seals' manager Francis J. "Lefty" O'Doul, he changed his batting stance to a crouch. It worked. Woodling achieved The Sporting News' Minor League Player of the Year award (.385, 13 doubles, 13 triples, 22 homers, and 107 RBIs). There was, however, a detour.

Woodling and the Seals engaged Stengel's Oaks in Emeryville late in May, the usual seven game PCL series format concluding with a Sunday double header. When these long time rivals clashed, the first game on Sunday took place in the visitor's park, followed by the second on the home team's field.

Then standing in fourth place, the Oaks dropped the second game and the series on a bright Sabbath at Oaks Park, 6-2, before an overflow crowd of 13,828, May 28, 1948.

Solid at 5'10" 180lbs Woodling roamed center field in traveling gray. Lloyd Christopher, a fine hitter in his own right, patrolled the area for Oakland. These adult males seemed like giants to kids like me who were laying on the outfield grass under a rope which kept the SRO's off the designated portion of the field for play. We were located in ground rule double territory within the scoreboard's shadow. I remember two baggers, but not how many that went into the on the field crowd.

Leading the PCL at .386, Woodling pulled a rocket into the right field corner near a rolled up tarp west of the bullpen, turned second, sprinted to and slide under Dario Lodigiani's tag at third. O'Doul signaled for a squeeze play. It went poorly on two counts. Out at the plate, Woodling injured his leg in the process, rendering him unable to play for about six weeks. Advantage Oaks.

As a footnote, that week Oakland obtained Ernie "Botch" Lombardi from Sacramento, bring the lumbering catcher home to finish his career denting the left field wall (we thought it was made of wood covered by tin) with line drives that were good for singles.

The Acorns intercepted Seattle, Los Angeles and San Francisco to take the PCL pennant by two games over the Seals. Mr. Stengel got his flag, a new job in New York, many World Series rings and his place in the National Baseball Hall of Fame as a manager.

Mr. Woodling was sold to the Yankees for cash and three players. He stayed for six years, hitting .319 in five World Series during a resurrected big league career fueled by his batting crouch. Ralph "Pine Tar" Buxton, the Oaks' losing second game pitcher May 23, 1948, spent some time with the Yanks in 1949, pitching in fourteen games. Second baseman Billy "The Kid" Martin followed in 1950.

Though Woodling and Stengel parted company in 1955 when the outfielder was traded to Baltimore, later going to Cleveland and Washington, the two were reunited on the fabled 1962 Mets. Woodling was an exception to Casey's famous line, "Can't anybody play baseball around here?" He contributed .274 in 80 games at age forty for his seventy-three year old manager.
---
CROWDS
A big crowd charged with an electric feeling generated through two well matched teams neck and neck in the standings, two and one half games apart, jammed Oaks Park Sunday afternoon June 20, 1949, the largest attendance in Oakland history, 14,706 fans there to witness San Diego versus Oakland, power against balance with third place at stake.
Luke Easter, Orestes "Minnie" Minoso, Max West, John Richey, Harvey Storey and Steve Mesner wore visitors uniforms styled after the New York Giants.
Artie Wilson, Billy Martin, Jackie Jensen, Harry "Cookie" Lavagetto and manager Chuck Dressen took the field in home white flannels. Three of five in this seven game series had gone the Oaks' way. They needed more.
We took the F train from Berkeley to 40th and San Pablo, detrained and walked two blocks north to Park Street. There it stood, the old ballpark.
Usually I went on Saturdays to perch in the right field bleachers for nine cents. Sounds of the game were important there. We relied on hearing, such as balls we couldn't see striking the fence below and cheers of fans who observed Mel Duezabou crashing into that fence making his trademark dramatic catches.
Walking along the east side in back of the stands along the left field line, we turned around the covered grandstand and headed west to the right field entrance where, for 25 cents, we were given a choice of the roped off sections in left or center fields. We took center, two kids ready for the traditional Pacific Coast League Sunday doubleheader, nine inning first game, second game seven.
To us,1949's significance on the coast was the number of black players. They were good. They were popular. They reflected what we were used to on playgrounds, such venues as Bushrod Park at 59th and Shattuck that within the next few years would nurture and graduate Frank Robinson, Curt Flood, Vada Pinson and Tommy Harper. For those players soon to grace major league ballparks like Martin and Jensen, they would be matched by Minoso and Easter.
[Easter blasted a homer at Seals Stadium over the right field wall, reportedly taking two seconds to leave the park, its place of exit marked by a white star on the back wall below where it went out.]
June 20 brought the Oaks closer to their ultimate second place finish behind Hollywood as they took two in the face of Easter's hitting including a homer out over our heads and ground rule double into the overflow crowd. Minoso ran wild, but not enough. Balance beat hitting.
---
THE LEAGUE
A window of several years existed in the late 1940's through which we envisioned the Pacific Coast League joining the American and National as a major league, the big league west of the Mississippi River.
Talk of population percentage of each of the eight cities attending so many games equaling a million fans enjoying baseball per stadium every season became common language, ultimately mythology.
Mid level players earned more here. We wanted talent to stay. Head to head Oakland could whip the Browns, Phillies, White Sox, Senators, Cubs and perhaps the A's. San Francisco, Los Angeles and Hollywood also had the potential to best those clubs.
While baseball's national scope embodied Triple A and below, college, legion and high school as in Cal took the 1947 College World Series powered by future Oak Jack Jensen and Oakland's Bill Erwin Post won the American Legion crown about the same time with future White Sox catcher J. W. Porter, the majors hid east of the big muddy to play their regular and post season contests.
Population boomed on the west coast. Our writers, artists, photographers and jazz were gaining prominence. Cal and Stanford took back seats to no one academically.
Good players were sold or left after successful seasons because they were "property" of major league teams. By draft the bigs could pluck off PCL players for $10,000 a head, usually a bargain.
The talent rich Yankees teased us in l946 allowing Vic Raschi to pitch for Portland, Gene Bearden and Frank Shea for the Oaks. Raschi and Shea appeared for their pennant and Series winning owners the following year.
Bearden, traded to Cleveland, won a l948 single game playoff against the Red Sox, and then helped his team finish off New England in a tough Series against the Braves, a club featuring former Seattle firstbaseman Earl Torgeson. The Giants bought Larry Jansen from San Francisco. Future AL batting champ Ferris Fain was stolen from the Seals by the A's via draft. Oakland sold Wally Westlake to Pittsburgh and several years later peddled Jensen and Billy Martin to the Yanks where they joined Gene Woodling, purchased from San Francisco. Ed FitzGerald went from Sacramento to the Pirates, Gus Zernial shed his Hollywood uniform to put on that of the White Sox. The Stars sold Irv Noren to Washington. Walt Dropo left Sacramento bound for Fenway Park. Luke Easter, Al Rosen and Harry Simpson joined Cleveland from San Diego. Lane Field became quieter when Orestes Minoso left for Chicago's south side. Bill Mazerowski, Dale Long and Lee Walls no longer played in Hollywood pin stripes.
Not all had success, Will Hafey of the Oaks and San Francisco's Dino Restelli come to mind. Gene Mauch and Sparky Anderson were better known as managers. They joined exPCL skippers Casey Stengel, Charlie Dressen, Fred Haney, Stan Hack, Bobby Bragan and Jimmy Dykes. Further Stengel had former Portland manager Jim Turner as his pitching coach during many glory years.
Lefty O'Doul refused offers to manage in the big leagues. Had the PCL been able to keep more talent, future events might have changed. Its fate was predestined by the baseball hierachy stubbornly clinging to its pre Curt Flood, Andy Messsersmith, Marvin Miller state.
When not attending games, we learned of these players, teams and the league through the eyes, typewriters and voices of good and great writers and broadcasters. Three have been elected to the writers section of the National Baseball Hall of Fame: Bob Stevens of the San Francisco Chronicle, the old Los Angeles Herald-Examiner's Bob Hunter and Phil Collier of the San Diego Union. Stevens was, and in special. Within a framework of keen understanding of the game, he injected and liberally sprinkled humor and insight into his accounts of Seals and Oaks contests.
Sacramentans read Bill Conlin of the Union and attended games at a field named for the Bee's Dick Edmonds. Emmons Byrne the Oaks in the Tribune, in hot competition with the Post Enquirer's Ray Schwartz. Los Angeles had the Times (Frank Finch), the Mirror and The Daily News. Portland's Oregonian featured one of the most respected sportswriters in the country, L. H. Gregory and Seattle read Emmett Watson in the Post Intelligencer and someone else in the Times. Stevens competition came from the Examiner, News and Call Bulletin and Collier's byline was compared with the afternoon San Diego Tribune.
Radios could pick up Bud Foster (Oakland-KLX/KROW), Tony Koester (Solons-KFBK) and Jack McDonald/Don Klein (Seals-KFRC), live from home games, tapes and sound effects for most away contests as in re creation, considered an art.

Perhaps Foster held an edge over the others. ("Top of the eighth, two out, Oaks lead by one, two runs in, runner at second, could score on a single, outfield deep and straight away, infield back, Speer's gone the distance, he checks the runner, sets his hands at the belt, Hawkins is ready, Marty's on deck, bullpen's working, the pitch, in the dirt, Raimondi blocks it, he gets a new ball from home plate umpire Cecil Carlucci, steps in front of the plate and tosses it to Speer with words of encouragement, the Hummingbird wipes his brow, he's ready, the pitch, thwack, a shot to the left side, Hamrick gloves it, fires to Scarsella, runner's out by a step, inning over, Oaks go into the bottom of the eighth leading four to three, middle of the order coming up and now a word from....")
---
NIGHT GAME

Kids long remember their first night game. Light towers we hardly noticed during daylight came alive Friday evening July 30, 1948, ready for an eight fifteen start between Hollywood and Oakland at Oaks Park.

Mr. E , who worked for the postal service, took his son and several friends, including me. Dresssed in snap brim hat, dress shirt, sport jacket, slacks and well shined shoes, he drove us to Emeryville.

He knew the game. We were learning. He ordered tickets ahead, the best seats any of us ever had, grandstand between home and third , about half way up under the roof behind the screen, offering new vistas, framed in magic and mystery, contradictions of the night. Darkness illuminated, light and shadow, "Casablanca", "Key Largo", descriptions of Bud Foster on KLX and sportswriters now entered our world of reality, the press box on the roof bringing them closer than a small plastic covered radio or newsprint.

Everything seemed magnified. Players ran faster and stood taller. We heard infield chatter, saw breaking balls and were part of a good crowd that was into the game. So was Mr. E. He conducted a clinic: batting stance, hands, elbows, how pitchers hide the ball, where they stood on the rubber, third basemen in a three point stance with glove in front, positioning of fielders depending on the batter or whether runners were on base, steal on the pitcher, what he would do if managing either club, were those signs-touching caps, letters, pants in varied sequences and, of course, when and how to get on the umps.

Oakland hadn't won a pennant since Mr. E was in high school. The game, indeed society, changed greatly in those years. A depression made indelible impacts on our parents' economic decisions. They wanted to shove the recent world conflagration into deep storage, make up for months and years of sacrifice, separation and worry. Some of our friends' fathers didn't come home. We felt their loss without having to be told.

Rumors surfaced in the press whether Casey Stengel would return as skipper next year. The Berkeley Gazette reported Casey's unhappiness over friend and general manager Cookie Devincenzi's leaving the team. Since the Oaks' spring training base for 1949 was to be Glendale, Casey's home town, did that matter? While this boiled outside our focus, the beaning of San Diego's Jack Graham the Sunday before in Los Angeles highlighted risks of the game. Remember, there were no batting helmets and many football teams still wore leather headgear. Graham then led the PCL with 46 home runs and was well within reach of Tony Lazzeri's record of 60 set in the mid 20's. Though he returned later to hit two more, Graham was never the same.

Hollywood arrived earlier that week (the Pacific Coast League schedule called for seven game series starting on Tuesday nights) to face an Acorn team occupying front seats of an out of control roller coaster. Two weeks ago they ripped Seattle, ascending to first place, short lived as second division Portland slapped them down in the next series. Oakland's free fall continued as the Stars won Tuesday, Wednesday and Thursday. Hopes improved when the pride of Berkeley's James Kenney Park, Billy Martin, returned after being on the shelf due to injuries for three weeks, thus far illusions as Casey Stengel's club even dropped one to a wild George "Pinky" Woods, as ultimate 20 game loser that year (against l5 victories).

The hit happy though sixth place Stars, managed by Jimmy Dykes, featured Gus Zernial, Frank Kelleher, Jim Delsing, Lou Stringer and Gene Handley. They had swagger, befitting of celebrity ownership. Dykes, like Stengel, a former major league manager of modest reputation, would return to the majors in 1949 as coach and later skipper of the A's. Zernial slugged 40 homers, to be continued with the White Sox and A's. Delsing commenced a 10 year journeyman career later in the season. Kelleher stayed, to be joined by Chuck Stevens, Irv Noren and new manager Fred Haney leading the Twinks' pennant drive in 1949, Woods finding the plate to win 23 games.

This night happened to be Casey's 59th birthday. We were ready. So were the Oaks. Homers flew out of the park. Nick Etten bombed t he right field bleachers with two as the Acorns won 6-3. Fresno's Earl Jones took the win and hit a four bagger of his own. Hollywood contributed a couple of long balls. We'd never seen that many in the same game.

What would happen if one of Etten's homers or a foul ball struck a fan? Mr. E said he hoped that person had enough money to pay his medical bills.

(Though not legally trained, Mr. E was correct. Fans participate in games as spectators, thereby being subjected to certain risks "necessarily and usually incident to and inherent in the game,the risk of being hit by a batted ball being obvious." While there are exceptions, that is the general rule as the appellate court ruled in Brown v San Francisco Ball Club 99 Cal App 484 (1950)).

The pennant race had begun anew. We don't know how Casey celebrated that night and little did he know his baseball life was about to take a dramatic turn. No more modest accomplishments.

This was a special game without fireworks, dot races, or other side shows, just baseball, white spheres propelled into the light and shadows.



---
Copyright © 2000. William B. Shubb.